Isomäki Digital Services - We are now a HubSpot service provider.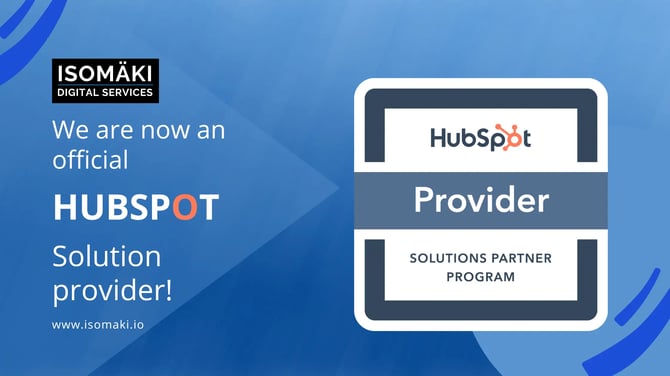 We are constantly looking for new ways to serve our customers better. This includes exploring different technologies and services that support businesses. We believe that businesses need to have the best tools and services at their disposal to succeed.
Powerful software that helps businesses succeed.
One tool that we have found very useful for businesses is Hubspot. Hubspot is a tool specifically designed for marketing automation and email marketing. It can be used to send newsletters, build automation chains, collect form responses, build websites, create ads and track performance. In other words, it can do practically everything a marketer needs to do to market a business.
In addition to the marketing toolbox, HubSpot also offers a comprehensive set of sales tools to streamline the sales process. With HubSpot's CRM software, you manage your contacts and customers. In addition, HubSpot's Service Hub can be used to improve customer service. HubSpot also offers a wide range of ready-made integrations with other software applications, making it a versatile tool for businesses of all sizes.
Book your free HubSpot demonstration today!
HubSpot offers a complete software package for marketing, sales and customer service, plus a free CRM. Let us show you how we can help you grow your business.
We help businesses grow with HubSpot.
Isomäki Digital Service is committed to finding ways to make such tools more accessible so that businesses can use them and succeed. One way to do this was to become a Hubspot solutions provider. This allows us to leverage Hubspot's resources and expertise to help our customers grow faster and with less friction.
We are proud to be part of the HubSpot Provider Program. We want to help our customers grow their business even more with HubSpot's powerful tools.
As an official service provider, we are able to offer our customers a more comprehensive range of services, tools and support. We believe that the HubSpot platform is a powerful tool that can help our customers achieve all their goals.
HubSpot is the leading CRM platform, and we offer it to our customers because we know it can help them improve their business. With HubSpot, they can easily manage their customer relationships, sales, marketing and more in one place. Contact us today to learn more about how we can help you get started with HubSpot.
Looking for a partner company that can help you with your HubSpot needs?
Contact us today to learn more about how we can help you grow your business with HubSpot!
Start here